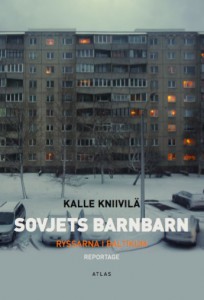 Children of the Empire – Russian life in the Baltics
Russian speakers in the Baltic countries are one of the largest minority groups in the European Union. They appear in the news whenever Russia invades a neighboring country and analysts suddenly discover that there are a million ethnic Russians living in Estonia, Latvia, and Lithuania. Might they be a security risk? Are they Putin's fifth column? And when the crisis is over, we forget all about them.
In his new book Sovjets barnbarn (literally "Great-children of the Soviet Union", 2016) the Swedish-Finnish journalist Kalle Kniivilä lets the Russian speakers in the Baltic countries tell their own story.
During his travels through the three countries he meets 84-year-old Maria, who reminisces about the beautiful evening in early May, just a few weeks after Josef Stalin's death, when she met her future husband at a dance in the Estonian mining community of Kohtla-Järve. We also hear from 15-year-old Kjara who is studying for her Latvian language A-level exams, and Yevgeny, a middle-aged computer engineer who was born in Soviet Tajikistan but now lives in the Russian speaking Lithuanian town of Visaginas, built for the staff of a Soviet nuclear power plant. The nuclear plant was shut down as a precondition of Lithuania's entry to the European Union, and many people have since left the town.
This travelogue, with dozens of in-depth interviews, paints a multifaceted and nuanced portrait of Russian speakers in the Baltic countries.
Ingmar Oldberg wrote the following in his review in Baltic Worlds 3/2016:
The author of this book has been likened to Nikolai Gogol and Ivan Turgenev, since he shows there is another Russia than that of Stalin and Putin, and to Chekhov, who exposes dilemmas to the reader without solving them. A more appropriate and up-to-date comparison can be made with Svetlana Aleksievich, because of Kniivilä's use of interviews and his empathetic and respectful approach to interviewees of various ages, origins, and professions and to their often touching or dramatic lifestories.

However, there are of course significant differences: Kniivilä asks questions concerning the identity of the Russians living in the three Baltic states, the problems they encounter in daily life, their view of Russia and the West, and how and why they or their parents came to the Baltics. Second, unlike Aleksievich, Kniivilä as a political journalist provides context for the interviews, explaining facts and sometimes arguing with his interlocutors. He describes his trips and the places he visits, thus producing a travelogue that could even be used as a guidebook for ambitious travelers.
Kalle Kniivilä is author of two highly praised books on the former Soviet Union: Putins folk ("Putin's people", 2014, best non-fiction book in Finland 2014) and Krim tillhör oss ("Crimea is ours", 2015).